Even the best kitchen designers are limited by the amount of square feet at their disposal. An ambitious plan can be thwarted by a simple lack of space – no matter how badly you've always wanted that kitchen island. But if you're lucky enough to have a large kitchen area in the home, then almost anything is possible!
Over the years, Chiddingfold Kitchens has been privileged to design and install all sorts of large kitchen spaces, from wood-beam country houses to Victorian school house conversions. Along the way we've picked up some invaluable tips for large kitchen design. Here's just a few…
Who will be using the kitchen?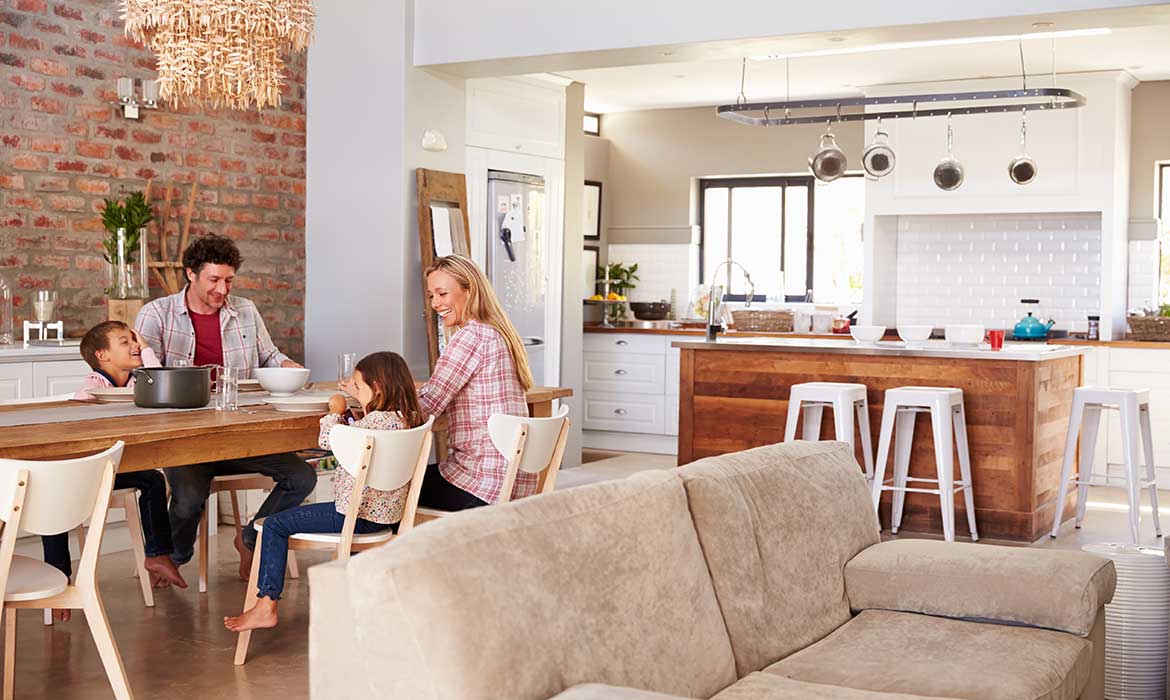 It's an obvious question to start with, but you can't properly design a kitchen without considering your lifestyle. If you love to cook and get stuck in, consider devoting more space to worktops so that you can move about unobstructed. For those who often have guests round for dinner, why not include a comfortable place for them to sit and relax, such as a small sofa or padded bench.
For families with young children, a whole new set of factors come into play. Then there's adjustable-height stools, kid-friendly storage options, space for doing homework, crafts and baking – and that's just the start! Safety is an obvious consideration for your large kitchen design; you'll want to avoid any sharp corners or angles on your countertop or dining tables to avoid painful bumps on the head.
What's more, many homeowners with children may prefer kitchen cabinets with a certain finish, such as an aged metal lacquer, to conceal sticky fingerprints or the bumps and scratches of toys and scooters. After all, even the best-behaved kids are prone to run wild in a large kitchen! For a different approach, white gloss cabinets allow you to spot smudges quickly and are very easy to clean.
Lastly, if you have pets then consider their needs too; cabinets with inlaid handles will prevent dogs from getting their paws on your food, while safety-lock electric hobs can't be trigged by adventurous cats.
Get the most from a kitchen island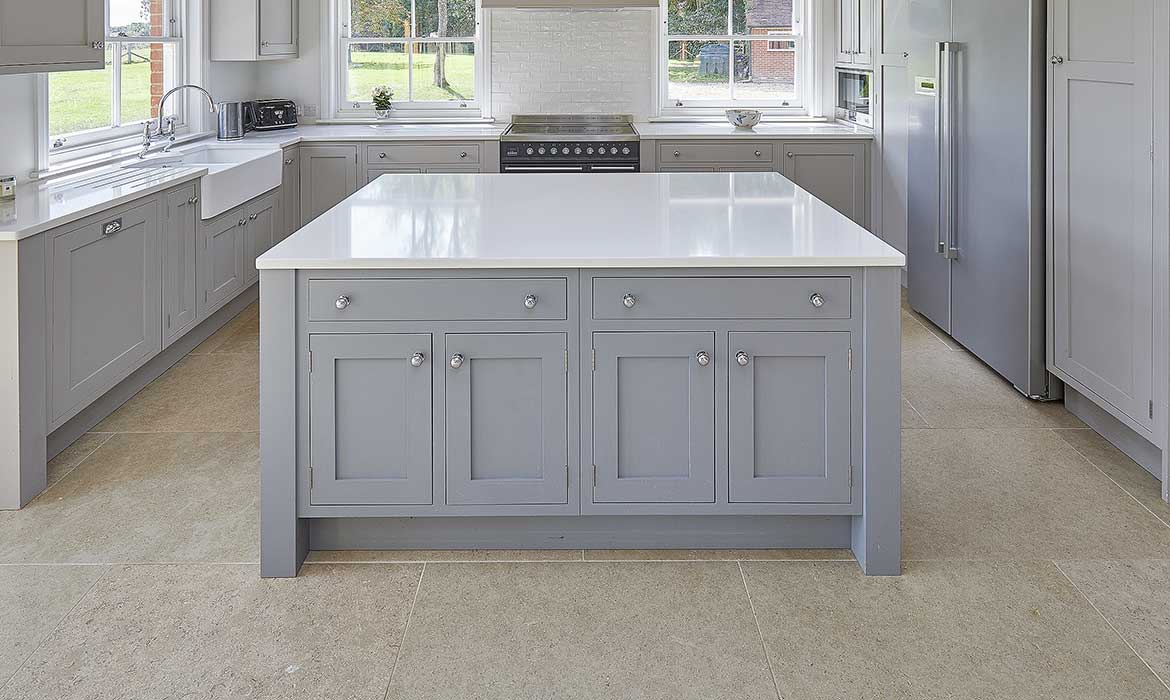 Once considered a rarity, kitchen islands are now among the most sought-after elements of a modern kitchen. With an increasing trend towards open-plan living, islands break up the layout of a large space and provide an "anchor" for you to design around. A good kitchen island should not only look attractive but serve multiple practical uses, such as storage, dining and preparing food. Some of our large kitchen designs have incorporated a breakfast bar into the island with ample space under the worktop for sitting.
Think carefully about the dimensions of your island and precisely where to place it within the room. You'll need a good amount of space all around for flow of movement, especially when the kitchen gets busy. You may even want two separate, symmetrical islands (provided there's enough room). It's also wise to proportion the island to match the rest of your fittings – easily achieved with bespoke cabinets – and to keep the same worktop material and colour for a unified design. If you want the island to stand out a bit more, we suggest using the same style of cabinet but with a different colour or finish.
Keep things easy to clean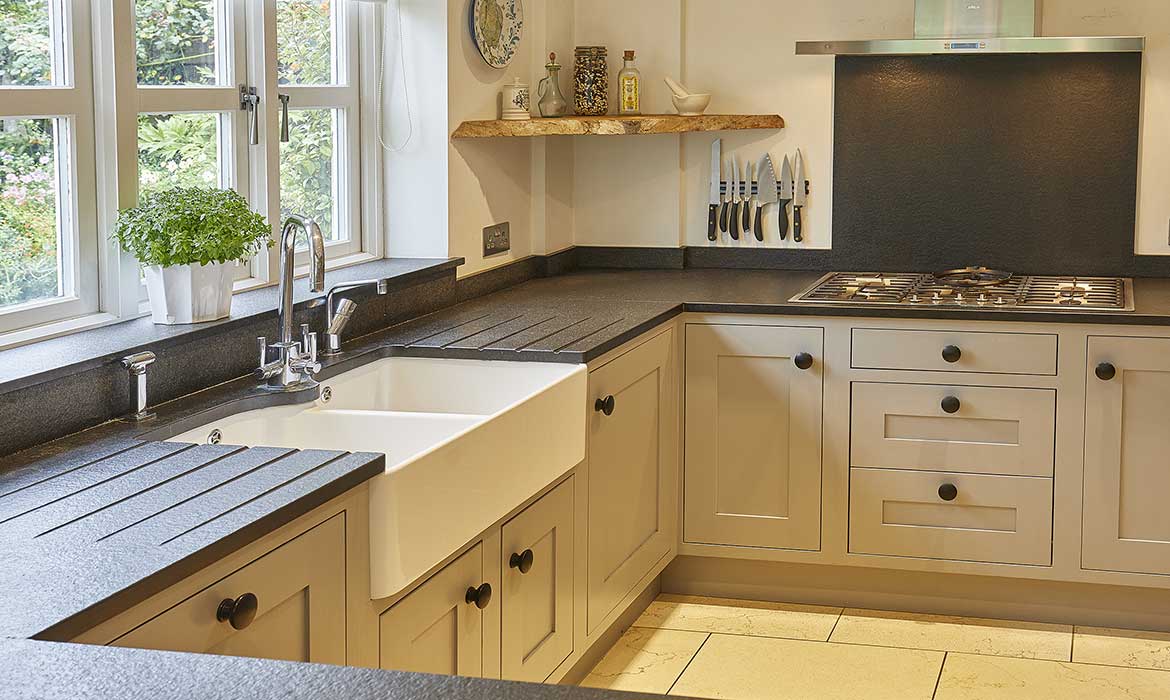 The downside to a large kitchen is that, inevitably, there is more surface area to wipe down and more appliances to clean. Your design should allow for quick, unobstructed cleaning of floors and countertops so that the cleaning process doesn't become a slog. This will come naturally if you have already thought about kitchen flow. Choose a quality kitchen worktop that's quick and easy to wipe, such as natural stone, composite or glass. These surfaces are hard-wearing and require little maintenance – perfect for a large kitchen.
You can never have enough storage…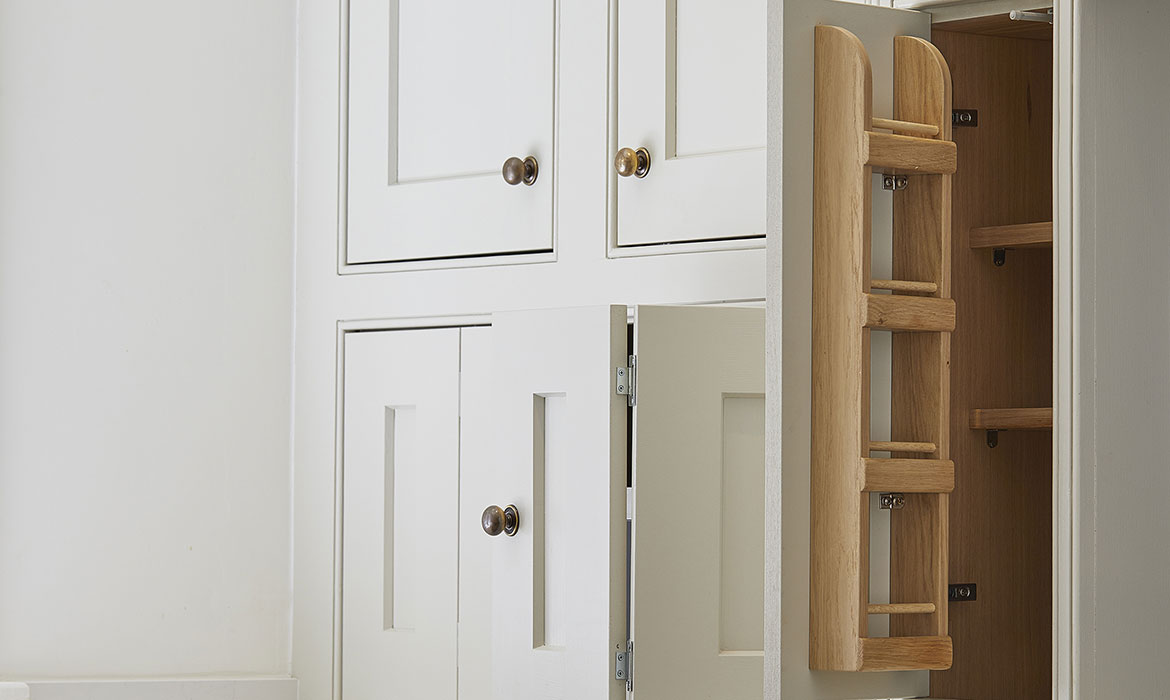 Being blessed with a large kitchen means you can store everything you need without cramming your cupboards. In our experience, homeowners are often surprised by how quickly space runs out in their kitchen. The more cabinets you have, the more you'll be able to customise your storage to exactly how you want it, from an abundance of pigeon holes for wine to layers of overhead cupboards.
We recommend a full size pantry with shelves, drawers, baskets and even lighting. This bespoke solution is the ultimate in storage customization and suitable for practically any type of dry food, from large bags of rice to tiny pots of herbs. Traditional shelves are another great option for a large kitchen, especially for those with a library of cookbooks or who have plenty of artwork and plants to show off. Lastly, as we've mentioned, a kitchen island is also a great option for extra storage. You can mix and match virtually any type of shelf, cupboard or pigeon hole for easy access.
Embrace your creative side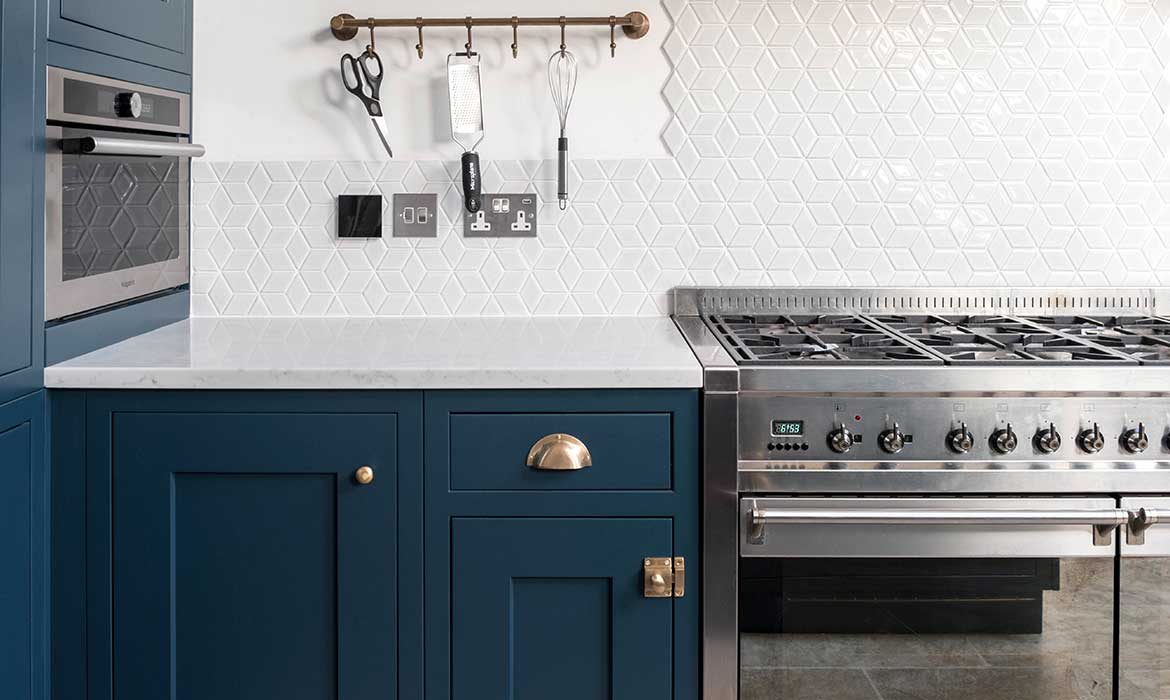 It goes without saying: the more wall space in your kitchen, the more art and colour you can embrace. We always encourage people with large kitchens to let their imaginations run wild. For instance, how about a large chalk board for making lists, inspiring messages, or general doodling? These can be integrated into a wall or hung as a distinct frame – just make sure they're at the correct height for kids. When it comes to tiling a large kitchen, most budget-minded homeowners prefer to keep tiles to a minimum. In these cases we advise tiling only the "core" parts of the kitchen, such as above the hob, leaving the rest of the walls in a matching colour.
For a striking, all-encompassing look without the cost of tiles, we recommend a patterned wallpaper. You can theme it to match the history or aesthetic of the property – for example, a holiday cottage by the sea feels even more magical with ocean wallpaper. Furthermore, if you want the exposed brick look without actually seeing the brickwork, there are plenty of stylish wallpapers on the market that look just like the real thing.
If you have a large kitchen space that needs refurbishing, get in touch with our expert kitchen design team. We'll do our utmost to bring your vision to life with great attention to detail, so you can enjoy all the benefits of a large kitchen.