When designing your dream kitchen, choosing a worktop is one of the biggest decisions you'll face. There are so many types of material out there that simply narrowing down the options can be a challenge. To help, we have listed the best types of kitchen worktop available at Chiddingfold Kitchens, compiled from our many years of designing, supplying and installing bespoke kitchen worktops.
All these worktops meet three essential criteria: attractive, hardwearing, and easy to clean. But each surface has its own special qualities that you will need to consider before picking out your ideal kitchen worktop. Ask yourself the following questions:
What will I use my worktop for?
Does it fit the overall look of my kitchen?
What's my budget?
You may find that the best-looking worktop doesn't suit the aesthetic of your kitchen. Moreover, if you enjoy cooking everything from scratch (i.e. with lots of food preparation) you'll want a tougher surface than someone who must only wipe off breadcrumbs and milk. We have broken each worktop down into "pros" and "cons" so you can easily find the best type of kitchen worktop for your home.
Natural Stone Worksurfaces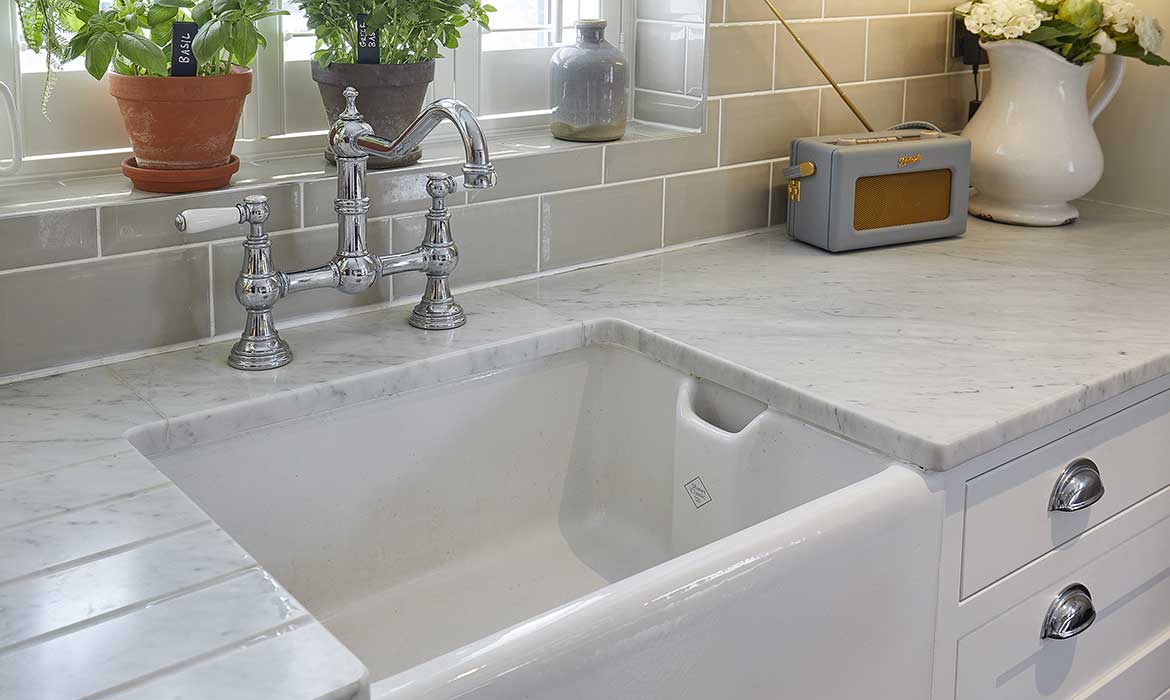 Pros
High heat resistance
Natural look
Easier to clean
Antibacterial
Cons
Heavier than synthetic worktops
Fairly expensive
Natural stone covers a whole range of materials – marble, granite etc. – that have been mainstays of the British kitchen for decades. Among these, granite worktops are one of the most popular in higher-end kitchens due the stone's amazing durability and hardness, as well as its resistance to  high temperatures. Granite is ideal for homeowners who prefer a low-maintenance kitchen that won't easily stain, chip or scratch. Another plus point is its versatility: granite worktops can be ordered in a host of finishes including polished, matt effect and brushed.
Marble worktops are a notch above when it comes to a luxury look. Beloved by professional chefs due to its superb heat resistance, marble is a great option for anyone with a flexible budget who is seeking that "Wow" factor. However, if you're worried about marble's relative softness and vulnerably to scratching, soapstone worktops are a safe bet. Boasting the luxury look of natural stone, soapstone is softer than granite yet remarkably resistant to the demands of daily cooking. Unlike marble, you can safely place hot pans and dishes directly onto the countertop without the use of trivets or cooling racks.
Composite Stone Worktops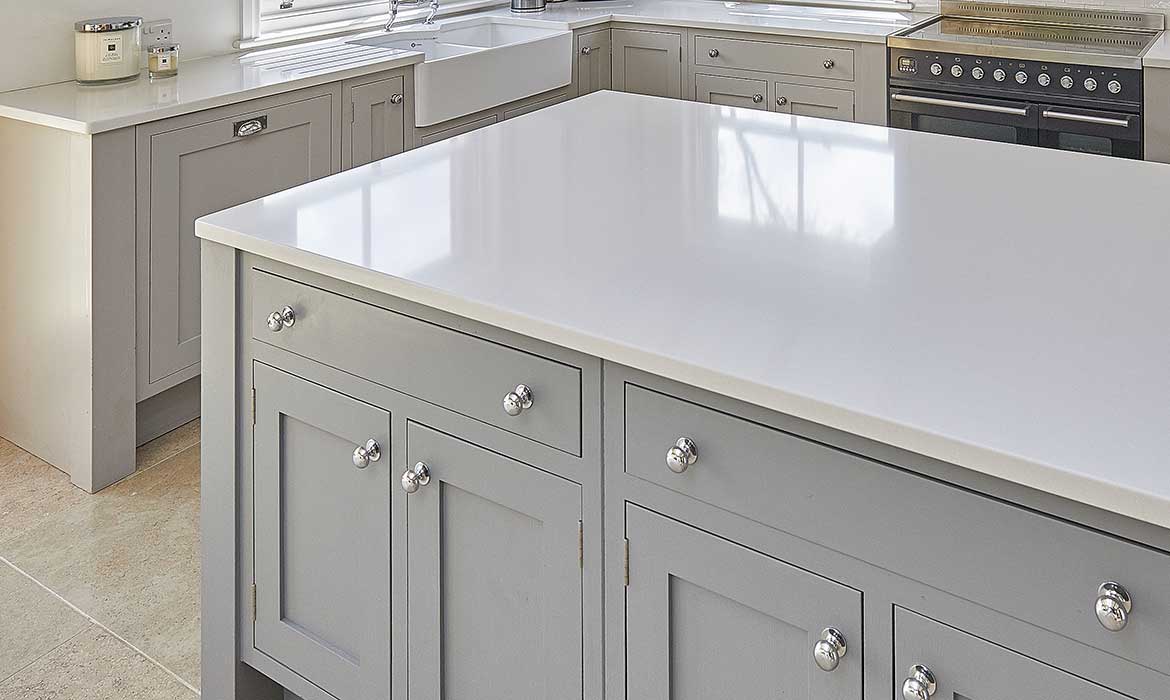 Pros
Stronger than soft natural stone
100s of colours
Cheaper than granite & marble
Invincible to scratches and stains
Cons
Composite or engineered stone has seen a recent surge in popularity due to improvements in the production method. Popular composite brands such as Corian boast the look and feel of natural stone for a much lower cost. You can now get that beautiful natural look on a smaller budget while gracing your kitchen with a non-porous, highly resistant material. This magic combination is achieved in engineered stone by blending quartz (around 93%) with a polymer resin, resulting in a hardwearing surface that requires little maintenance on your part. Bear in mind that both composite and engineered stone worktops are still very heavy and do not cope with heat as brilliantly as natural stone.
Hardwood Worksurfaces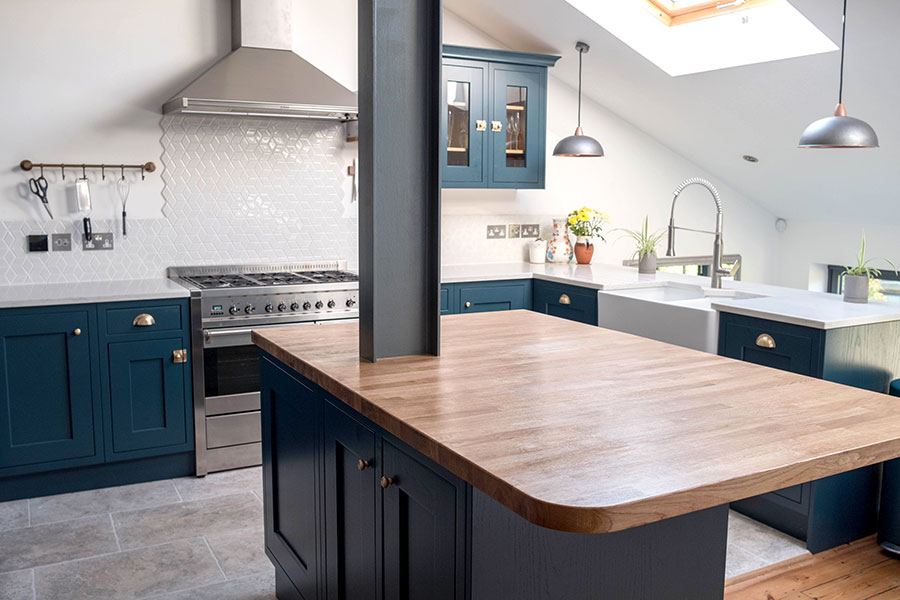 Pros
Grows better with age
Cheaper than stone
Many types of wood, shapes & grains
Suits both modern and traditional kitchens
Cons
Needs regular maintenance
Easier to stain or scratch
If you're after a warm, cosy feel to your kitchen, our advice is to go for a hardwood worktop. Hardwood's rustic vibes can be harnessed through so many different styles, from classic oak and maple to more exotic woods such as iroko. You will need to oil your hardwood worktop at least once a year, but your efforts will be rewarded over time with a gorgeous "patina" – the natural ageing of real wood. Using reclaimed wood also is a more eco-friendly choice for fitting a kitchen and is a popular choice for Scandinavian-style interiors. A recent project of ours in South London used a stunning hardwood worktop for the kitchen island, complimenting the dark blue cabinets.
Glass Kitchen Worksurfaces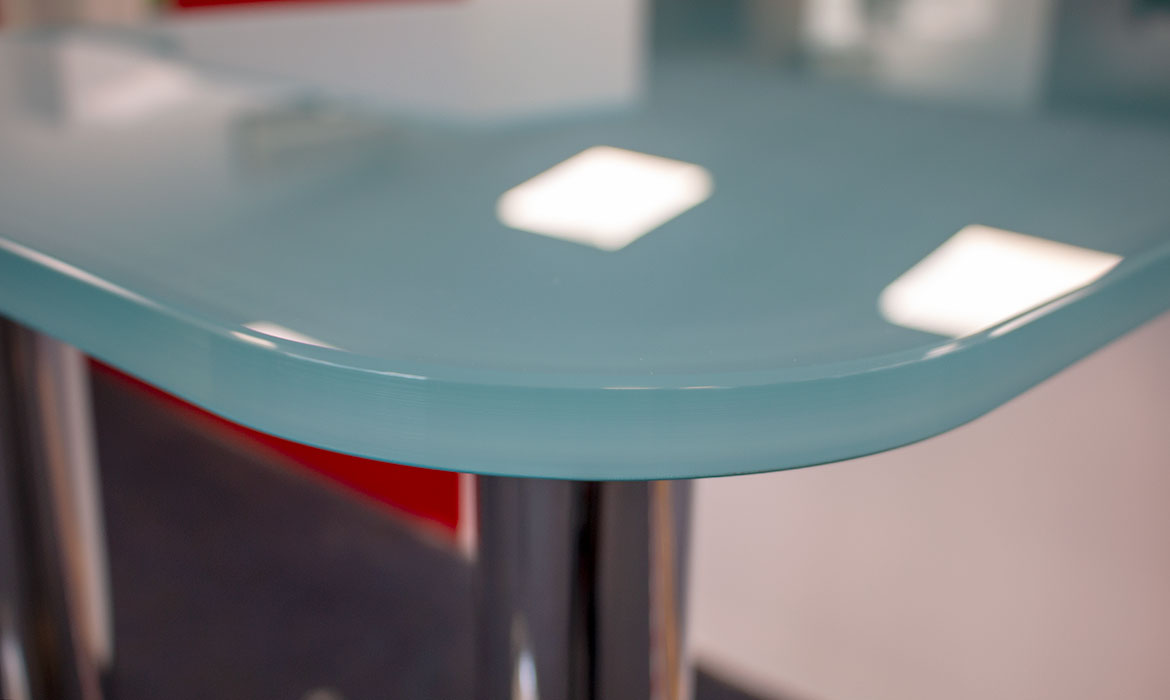 Pros
Variety of thicknesses and styles
Easy to clean and maintain
Very strong and durable
Sleek, modern style
Eco friendly
Cons
May leave finger marks and smudges
Expensive
You can't cut food on it
Toughened glass kitchen worktops are being embraced by a new wave of kitchen designers for the ultimate sleek, contemporary look. With a plethora of glass styles at hand – textured, back-painted, crushed, or even LED-lit – glass worktops offer a versatile range of design options and can be easily adapted to any size, colour or texture. Made with five times the strength of annealed glass,  toughened glass also makes for a sturdy, heat-resistant worktop that holds its own against natural stone in the longevity stakes. Fully recyclable, it's also very hygienic and easy to clean, suiting homeowners with a busy lifestyle who may lack the time or inclination to clean and maintain their kitchen worktop. However, if you're a cook who likes to get stuck in with knives, or takes good care of their crockery and glassware, toughened glass may not prove the safest option.
Stainless Steel Worktops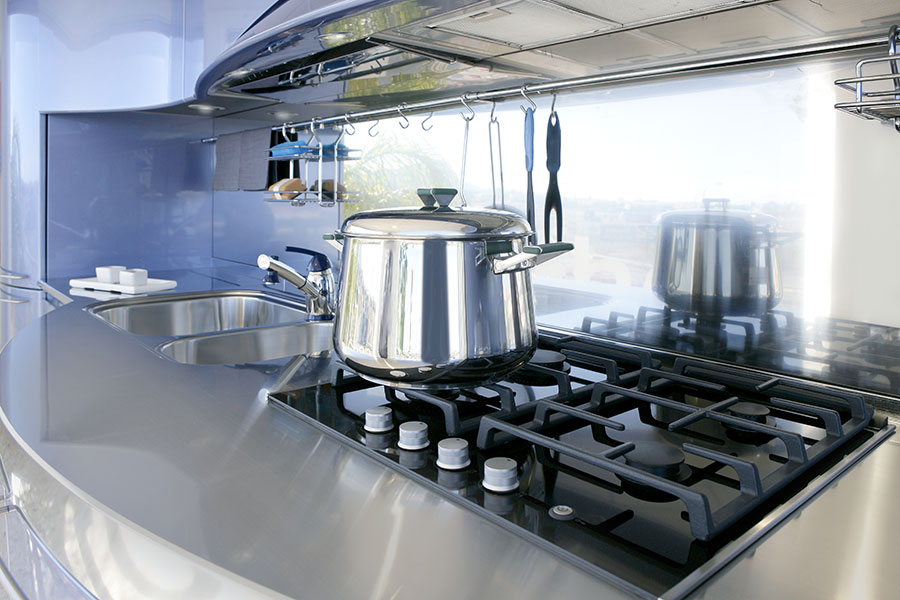 Pros
Lightweight
Integrated "industrial" look
Easy to clean and antibacterial
Cons
Stained by some acidic foods
Prone to fine scratches
Less noise absorption
Stainless steel offers perhaps the smoothest, most integrated look of any kitchen worktop material. With so many integrated sinks and splashguards made from stainless steel, why not extend your steel vista to include the entire worktop for a cool, industrial look? Unusually for such a strong and durable material, stainless steel worktops are also very lightweight, making them easier to install. We recommend choosing a stainless steel worktop for smaller kitchen spaces, as too much stainless steel can become a tad overwhelming. Also keep in mind that pots, pans and cutlery may echo off a steel worktop due to the relatively poor noise absorption qualities of the material.
If you have any further questions about the best types of kitchen worktop, we're here to help. Our team will share expert advice on the best kitchen worktops for your individual needs. Why not book a free design consultation at your home to discuss ideas for your new dream kitchen?